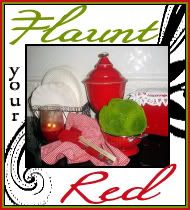 First up is my very favorite red... my Pizza Hut lamp in my kitchen. My mom purchased this for us and the memories that it brings...priceless.
Next is my red mercury glass that I purchsed after Christmas. I have 4 of them and love love love em....
This fluer de lis I purchased at the Goodwill and it was silver with bronze over it... just wasn't doing much for me. So a quick cover with what else...spray paint and I'm a happy lady now.
Just a little splash of red mixed in with silver and black on my cradenza.
Red berries hanging from an old window frame.